Skip to main content
At UMHAN, we promote the health and citizenship of people who experience mental health difficulties in Higher Education and advocate to relevant bodies to promote the rights of students with mental health difficulties. Our campaigns and events help us to achieve these aims.
University Mental Health Day
University Mental Health Day is the national campaign to focus efforts on promoting the mental health of people who live, work and study in Higher Education settings. Run jointly by Student Minds and UMHAN, we are encouraging all university students and staff to get involved!
Find out more about the campaign and stay tuned for next year!

I Chose To Disclose Campaign
A survey by the Equality Challenges Unit (2015) found that around half of students and staff had not officially disclosed their mental health difficulties to the university. Additionally, a new report commissioned by Unite Students and the Higher Education Policy Institute (2017) shows that 13% of university applicants have a mental health condition, but of those, only 37% have disclosed, or intend to disclose, their mental health condition to universities.As a result, they are not receiving the support or adjustments they are entitled to.
The report suggests that one barrier to disclosing could be the lack of clarity within the process of disclosure. If I decide to disclose a mental health difficulty to my university, what happens next?
We want to:
Increase the information available for current and prospective students about what happens if you disclose a mental health difficulty to the university.
Remove the barriers and empower you and help you to make an informed decision about whether you choose to disclose or decide not to.
There is no right or wrong decision in disclosing and it is a unique and individual choice. However, seeking support from a university had a positive or very positive effect on work/study for 78% of students and 74% of staff who had chosen to disclose - ECU Report (2015)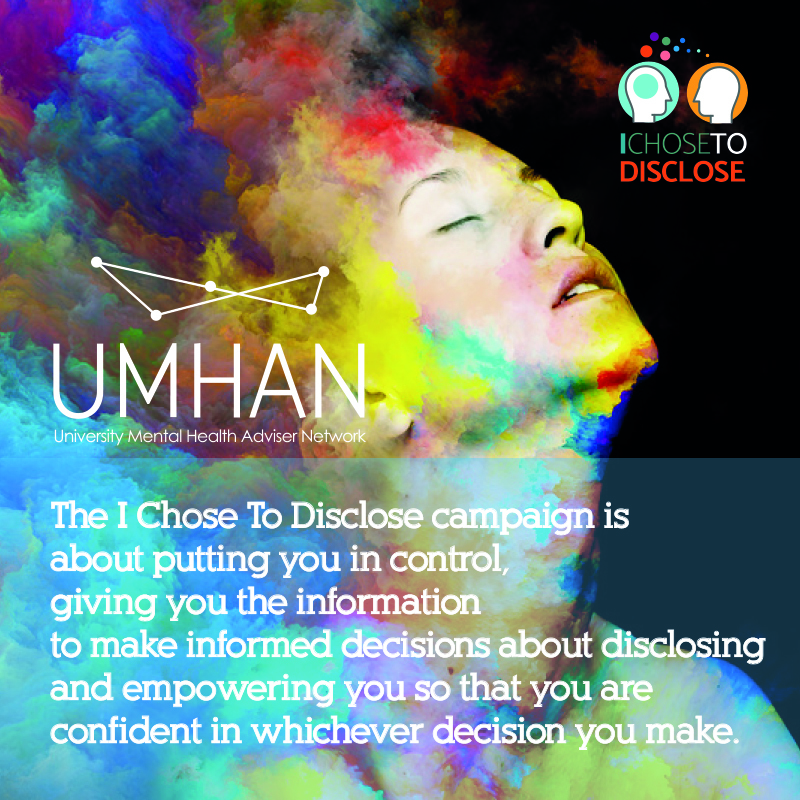 If you do decide to disclose mental health difficulties to your university, the information you give will be treated confidentially and sensitively.
We would like people who have disclosed - of all ages and backgrounds - to take part in the I Chose to Disclose Campaign! Send us a short video/picture of yourself answering the following questions and we'll use it to promote talk around mental health and tackle stigma.
1. Why did you decide to disclose?
2. What was difficult about disclosing?
3. How did your life change after disclosing?
4. How do you feel now?
5. Would you recommend disclosing to someone who's going through mental health difficulties?
6. What's your opinion about Mental Health services at uni?
7. What is your profession?
NB: Your face does not need to be in the video/picture if you don't want to, we're happy to use subtitles instead of your actual voice, and to blur the images in case it is required. Talking about disclosure is really important to us, but we know it might be incredibly difficult for you, so we will take all the necessary adjustments for you to feel comfortable in sharing.
Make sure your video/photo is taken horizontally and send it to [email protected] saying you consent to the use of your images and quotes when it's done.
Download and print our I Chose To Disclose flyers here!